Google Chrome Ad-block Update
With the intention of providing a better and more positive user experience to the user.
Web users, for years, have been complaining about the detrimental effects of intrusive advertisements on web/online user experience and by banning these annoying advertisements and listening to its customers, Google has taken a crucial step in significantly improving the online user experience. Additionally, the rise in ad blocker software use and the customer feedback Google collects have been strong influences in the undertaking of this decision.
Details on this update were hinted by Google months back, to give websites, publishers & advertisers a chance to become compliant with the new advertising rules set in place. Google's ban is following the "Better Ads Standards" guidelines set out by the "Coalition for Better Ads". The Coalition for Better Ads is an industry group dedicated to improving the experience of ads seen on the web by keeping consumer preferences and good user experience in focus.
As for many publishers and websites, advertisements play a crucial role in generating income, and in order to continue publishing quality content for their readers Google is banning only those ads that online users have deemed intrusive, while allowing those ads that do not dampen user experience and – in fact – add value and serve their purpose in a subtle, yet effective, manner.
Advertisement types that have been deemed intrusive or annoying are primarily prestitial ads (ads that take up the whole page stopping readers from viewing the content) and the flashing animated ads.  Auto-playing video ads with audio and ads with a countdown are among the others identified as intrusive.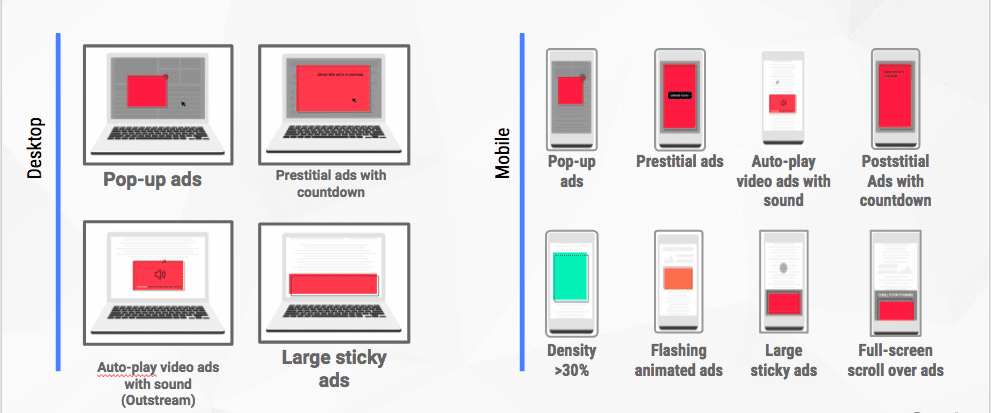 As Google had relayed a warning covering the update months ago, they had set in place a mechanism to become compliant through evaluating your own site through the ad experience report through search console (watch the video below). If sites continue to not work toward being compliant, ads displayed on the site are blocked as a penalty.

What Marketers Can Learn
As marketers and advertisers, this update, of course, calls for a scrutiny of our digital marketing tactics and strategies. Long gone are the days of gaining attention through eye-catching content that would demand the viewer's attention (the rise in inbound marketing popularity is evidence).
This update is crucial particularly for digital marketing professionals running display & remarketing campaigns of various scales. While this update can come across as a limitation, it is beneficial to note that sometimes, limitations can be liberating in a way.
The elimination of the various type of ads leaves advertisers with a handy few ad types they can use. This, in turn, allows us to truly question the goal behind these ads, to truly understand what they wish to achieve and to seek if there exists a better manner of achieving the same. Subsequently focusing our resources on channels that drive KPIs and make a difference by truly adding value to the online user's experience. Working with the new guidelines allows digital marketing professionals to drive value by tapping into the data-driven potential that digital marketing and online advertising provides in the form of personalised experiences, without hurting the user experience.
Besides the obvious resource allocation advantages, there are the intangible benefits that this brings. By delivering ads that are non-intrusive and truly add value to the user experience online, brands, marketers and publishers can gain the users' trust. By ensuring ads do not intrude and add value, digital marketing professionals can work toward successfully building a brand's image, equity, fostering a positive sentiment and subsequently a sense of loyalty.
Watch this space for more information on all things Digital, Online Marketing, Web Design & Development, UX/UI, SEO, Analytics and Advertising.
Digital Strategy Consultants Ltd. is an IT & Digital Consultancy agency located at the Digital Hub in Dublin. Founded in 2012 with a passion for digital marketing and a drive to bring innovation and a new level of best practices to the industry. Following a data and research-led approach, we specialise in – Web Design, Web Development, UX/UI Development & Design, Online & Digital Advertising, Search Engine Optimisation, Digital Analytics & Reporting, Conversion Rate Optimisation & Social Media.